Here's How To Get Your Dog To Listen To You, Anywhere You Go.
---
... Even If He's Distracted By A Tennis Ball, A Piece Of Food, Another Dog Or The Baseball World Series On Television!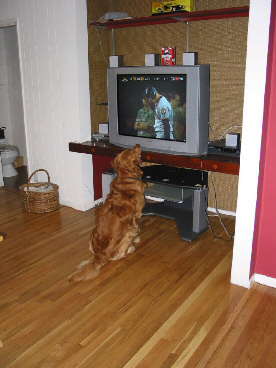 Pictured above: "Tucker" owned by Gene & Rose Pedenko, watching 2002 Baseball World Series in Marina Del Rey, California.
"Click on the 'Play' button above to hear a personal message from the author, Adam Katz."
"This is hands-down the most powerful
dog training information I've ever seen!"

Cornelia Schwadtmann,
Professional Veterinary Technician, San Pedro, CA
Warning! Do Not Attempt To Train Your Dog,
Or Even Think About Hiring A Dog Trainer
Until You Read This Page!
Dear Friend,
If you own a dog or puppy, you need this information. The information basically covers all three categories of training your dog: fixing dog problems, tips and secrets to use in your everyday training, and buying and raising a new puppy or older dog. It applies to all breeds and ages of dogs. It doesn't matter if you own an old dog or a young one, the information is, in some cases, shocking! You'll be saving time and money, avoiding mistakes and disastrous situations, and learning secrets other people only wish they knew. Here are a few things I discuss that will start getting your dog to listen to you, immediately.

SECRETS TO FIXING ANY DOG PROBLEM
It is estimated that 93% of all "professional" dog trainers don't really know what they're doing. And the other 7% charge hundreds, if not thousands of dollars. You can save yourself time and money, not to mention sparing your dog lots of stress. Here's a small sample of the secrets you'll learn for fixing any dog problem:
One thing you must do so that your dog will understand why you're correcting him.

Learn how every top dog trainer in the country actually relates to their dog... their most guarded secrets are revealed!

5 secrets you must know to housebreak your dog in a hurry!

How to praise your dog so that your praise has meaning!

Aggression and how to diffuse a potentially dangerous situation.

How to teach your dog to never bolt out the front door again...
without permission of course.

Handling tips for dealing with the dominant dog.

Seven key insider points you must know before you hire a dog trainer.

Discover hidden bogus marketing gimmicks and false "guarantee" tricks that can cost you thousands if you hire a less-than-professional dog trainer... and you'd never know it!

3 things you must add to your dog training 'bag of tricks'... unless you want to take twelve times longer to fix your dog's problems.

Stop your dog from jumping up on you... forever!

The terrible truth about training the pit bull (it's not what you think!)